Flourish Speech Pathology provides speech therapy services and supports that are planned to meet the unique needs of your child and your family. Services provided by Flourish Speech Pathology to Bundaberg families include:
Individualised and comprehensive communication assessments
Individualised speech therapy intervention and strategies to promote your child's communication skills and development
Practical support and information about your child's communication development
Consultation with your child's day care, kindy or school to make sure we are all working together to support your child's communication needs
Flourish offers access to an iPad as part of speech therapy appointments. Different Apps can be used during therapy to support your child's communication or to have a fun reward for your child's great work!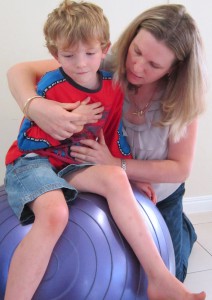 Apart from general speech therapy support targeting early speech and language development and speech sound correction, Flourish's Speech Pathologist is trained and able to offer the following targeted therapy interventions and services:
PODD – Pragmatic Organisation Dynamic Display Communication Books
Picture Exchange Communication System (PECS)
Key Word Signing
Augmentative and Alternative Communication Systems and Technologies
Hanen Programs – "It Takes Two to Talk" & "More than Words"
.